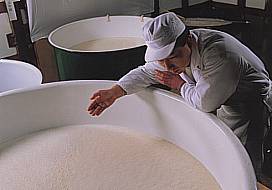 Kura History
In 1917, Soukou Kakizaki and a local friend started up our company, Asamai Shuzo, which today brews the sake brand Amanoto. They began with a working capital of 20,000 yen, with each share of stock priced at 500 yen. It didn' take us long to get up to speed, for between 1930 to 1934 we won four consecutive awards in national sake-tasting competitions. We were forced to stop brewing in 1943, and turn in our equipment for war-related reasons, but were granted a special permit to begin again a year later. We have not looked back since then.

Presently, we use Akita-grown rice and Akita yeast AK-1 to brew our sake, and have won five straight Gold Prizes in the prestigious National New Sake tasting competitions. We are proud of our accomplishments, and intend to continue to strive to maintain our high standards of quality.

The Sake
Our sake presents overall a solid, crisp flavor profile. On top of this dances a subtle but lively array of flavors. Each of our sake, from our average sake to our top-grade daiginjo, has its own strengths and qualities. Some is more quiet, some is fruity and fragrant. But all maintain the basic qualities infused by great rice, great water, excellent yeast, and our toji's skills.



The People
(Photo of President Kakizaki Hidemori)
Our current president, Hidemori Kakizaki, realizes the importance of the cultural aspect of sake brewing, and strives to strengthen our presence and increase production �but not at the expense of quality of sake or work environment. Says the president: "We brew sake based on what we have learned from the past, staying true to the basic concepts. I want to create a great working environment with good modern equipment, and strengthen our production through that."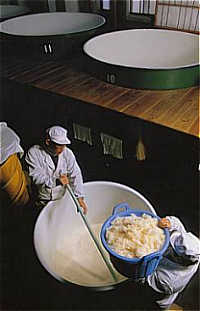 Size and Special Characteristics
Asamai makes only 700 "koku" a year. As one koku (the traditional measure of sake in Japan) is 180 liters, about 125 kiloliters is brewed here each year, in the traditional brewing season which runs from late October to early April. "We would like to brew as much as 2000 koku a year, but our customers have come to appreciate and expect quality sake from us. More than anything else, we want to make sake with increased value for them. Adds their toji: "Well, now that we have won some gold prizes, there is a bit of pressure on us, I would say. I want to brew some expensive sake, but I want to brew some reasonably priced sake as well.

Other Notable Quotes
Our kura is located in Asamai Hiragacho, with a population of about 16,000 people. It is essentially a farming region, mainly rice, watermelon and apples. However, the beauty of the region has been attracting more and more tourists over the past few years. The water which flows up in springs here has been famous since the Edo era (1600-1868).



Toji and Kurabito
Our toji (head brewer), Koichi Moriya, is relatively young for a toji, being 37. Unlike many toji these days, he lives in the same town as our brewery. He became our toji in 1992, and soon showed his prowess by winning five gold prizes in a row. He has also written a book about his experiences, entitled Natsuta Fuyuzo, filled with anecdotes and warm stories about life in a sakagura (sake brewery).

"Before I got involved in growing rice," he says, "I just wanted to brew clean, lovely sake. But now that I help grow Miyama Nishiki rice, I want to brew sake that exudes the flavor or rice, and I want people to taste the water that flows from the spring in our kura."

Contact Info
388 Asamai Hiragacho, Hiraga Gun, Akita


0113-0105 Tel 81-182-24-1030 Fax 81-182-24-0708
-- 81 is Japan country code; within Japan, dial 0182-24-1030 --
Email: amanoto@rnac.ne.jp
Web: www.amanoto.co.jp (J)