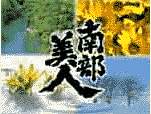 Kura History
Nanbu Bijin Brewery (formerly known as Kuji Shuzo) is located in northern Japan's Ninohe City, an area long referred to as "Nanbu no Kuni." It is an area blessed with lush and beautiful natural reserves, fine water, two national parks, and a lake. We were established in 1902, but at first were only a sake retailer. In 1915 we acquired the necessary licenses and began to brew sake. Our facilities lie on what was once known as the Okumura Kaido, old National Route Number 4. The all-glass front of the main building gives the proper impression of a shop, while the kura (brewery building) behind it is a gorgeous, all-wood, traditional structure. Its ancient, thick pillars and their shining dark color convey the long history of the place.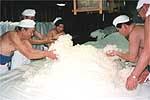 The Sake
In 1951, we decided to stop making the sweet sake so common back then, a style with plenty of off-flavors. Instead, we decided to brew "clean and beautiful" sake. Hence, we created the Nanbu Bijin brand name to personify our sake. Nanbu stands for the region, and Bijin (meaning beautiful woman) for the delicate, light, and clean nature of our sake. Our sake is brewed with medium-hard water that is purified naturally as it courses through the mountain rock on its way to the sea. We use Hito-mebore, Toyonishiki and Sasanishiki sake rice (see Rice Varieties for more), and of course, our sake is brewed by a Nanbu-area toji.

The People
Kuramoto Kuji Hideo and Son, Kuji Kosuke


We employ about 25 people at Nanbu Bijin.

We are still very much a family-run organization. About six people are involved in the brewing process, one of them a former sumo wrestler! The future of Nanbu Bijin lies with our present chief of production, young and energetic Kosuke Kuji. Slated to be the 7th generation kuramoto, he has already come to represent the face of Nanbu Bijin. "I want as many people as possible to know of and taste the sake we brew; it is a piece of our history, our culture, and of Iwate Prefecture."

Size and Special Characteristics
We brew about 1200 koku of Nanbu Bijin each year, which amounts to about 200 kiloliters. This just about suits our size in terms of personnel and equipment. If we became much bigger, we might not be able to control our quality as well as we would like.

Notable Sidelights

We have a strong web presence (in Japanese language only), with lots of information on sake brewing. Check it out at www.nanbubijin.co.jp. Also, Ninohe City, beyond being blessed with an abundance of natural beauty, is also rich in historical assets and anecdotes. You can learn more than you will ever need to know about Ninohe at www.w-net.ne.jp/ninohe/ (again only Japanese). Should you travel to Ninohe, you can see the oldest sake vending machine in Japan, a Taisho Era (early 1900s) wooden box that sold free-running sake for 5 sen (half a yen). There was also a spigot for water for rinsing your cup. It is now in the Ninohe City Historical Folk Materials Museum.



Toji (Master Brewer)
Our toji, Mr. Hajime Yamaguchi, is truly amazing. He has been with us since 1964, more than a quarter of a century. He has won countless awards from the tax department, as well as from the Nanbu toji association. In 1992, he was selected by the Ministry of Labor as one of the 100 Great Craftsmen. While fervently preserving traditions, he actively develops new technology and contributes much to the industry. Yet, he remains humble. "No matter how long I make sake, I am clueless about brewing. In the end, it is a matter of understanding the relationship between the water and the rice, and it is difficult to try and grasp the infinite variations between them." Sake is born of the experience and efforts of the toji, and their love for the sake they brew. We are proud and privileged to have such a skilled and intuitive toji with us.

Contact Info
13 Azauemachi, Fukuoka, Ninohe-shi, Iwate


028-6101, Tel 81-195-23-3133 Fax 81-195-23-4713
-- 81 is Japan country code; within Japan, dial 0195-23-3133 --
Email: nanbubi@rnac.ne.jp
Web: www.nanbubijin.co.jp (J)