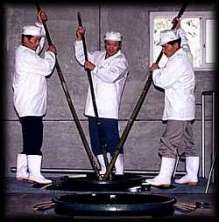 Kura History
Rihaku Shuzo was founded in 1882 in Matsue City in Shimane, although it was not until 1928 that we adopted the name Rihaku. Rihaku was a famous poet in China, and is also known in English as Li Po. Rihaku lived from 701 to 762, and was known for his fondness for the bottle. He was a kind, open -minded, wandering poet that was famous for drinking a lot before writing. He was known to have said, "I drink a bottle, and can write 100 poems ."We make use of Rihaku's poems and phrases in our brochures and on our labels, and quote him often. Several of our sakes are named with phrases from the great poet's words.

The Sake
Our sake is, in general, mellow and well-rounded. It leaves a wonderful lingering sensation, and overall has a good "umami" to it, that hard-to -describe something that satisfies, and makes you want a bit more. We make several types of sake, at least one for each occasion. The diligent effort and great skill of our toji and kurabito are evidenced by the fact that we have won many gold medals for our sake in the tax department's prestigious New Sake Tasting Competition. Over the past two decades, we have won golds in Over the past two decades, we have won golds in 1982, 1984, 1987, 1988, 1990, 1991, 1995, 1999, 2000, 2003, and 2004.

The People


Photo: Rihaku President Yuichiro Tanaka
Sadly, President Tanaka passed away in early 2010. He was a visionary and a major force in spreading Japanese sake to the worldwide community. "I feel it is part of my life's work to spread the good word about sake, the culture that goes along with it, and of course Shimane as well," he says with a modest smile. He was at the helm since 1987. Today his son Yuichiro Tanaka manages the brewery. Yuichiro is actively involved in many other sake-related projects, both within Japan and without, and carries on his father's mission of bringing Japanese sake to the world.

Size and Special Characteristics
Each year, we brew about 3000 koku of Rihaku sake. That is 540 kiloliters of nihonshu. The small amount allows us to focus on each and every drop that is made, enabling us to create just the sake we want to create.

Notable Quotes
We brew our sake with water from a deep well near the kura, which has long provided us with pure, clean, delicious water. It is fairly soft water, and absorbs nicely into your tongue. Also, all of our sake is brewed with proper sake rice, including our standard "everyday" sake. Sake rice is significantly different from table rice, and we believe it is worth using in all of our sake.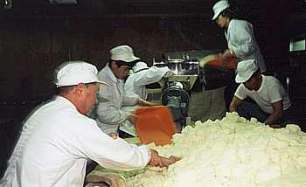 Shimane Prefecture features some of the most beautiful countryside in Japan. It is well known for many things, including many old structure like castles, houses and shrines. It was also the home to Lafcadio Hearn, an American writer who lived here in the late 1800's, marrying the daughter of a local noble, teaching English at a nearby high school, and writing several books about his adopted home.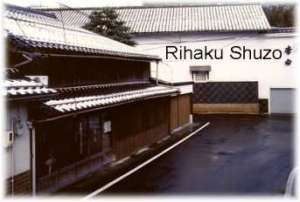 Toji (Master Brewer) and Kurabito
Our current toji, Oosako Osanobu, is the 6th toji at our kura. He is of the Izumo toji school, which is centered here in Shimane (the region was long ago known as Izumo). Interestingly enough, our first two toji (who were father and son) were not Izumo toji, but rather Bitchu toji, from nearby Okayama. Mr. Osanobu is aided by seven other experienced brewers. They combine traditional technique and skill with modern state-of-the-art custom-made equipment to create sake that is the pinnacle of their art.

Contact Info
325 Ishibashicho, Matsue-shi, Shimane


690-0881, Tel 81-852-26-5555 Fax 81-852-26-5557
-- 81 is Japan country code; within Japan, dial 0852-26-5555 --
Email: rihaku@rihaku.co.jp
Web: www.rihaku.co.jp/ (J)