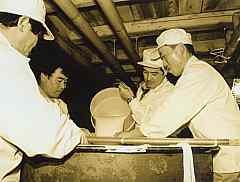 Kura History
Our kura was founded in 1859. The name Suwa Izumi was taken from a local Shinto shrine, Suwa Jinja. The shrine itself has been in existence since 1278, and is a famous local attraction. Tottori Prefecture, where we are located, is one of the least populated regions of Japan, and undoubtedly has some of the most beautiful nature. Mountains, oceans and wooded areas vie for space, with people in the minority. The clean air and the cold winters make it ideal for sake brewing. Located about two hours outside of Osaka by express train, there are only 23 sake breweries still remaining in the prefecture.

The Sake

Overall our sake is dry, and wonderfully approachable as a result of the water from which it is brewed. Our water is extremely soft, but it ferments well at low temperatures. So we make our sake with long, low-temperature fermentation, which allows a gentle ginjo fragrance, and a fresh lively flavor to develop. Also, as we know koji is where good sake begins, we do it our own way, which is to make the koji at a slightly higher temperature than usual. This helps give our sake a clean and pleasant finish.

Our sake, in particular our Daiginjo Ottori, has its fans from all over Japan. We have won nine gold awards in the national New Sake Tasting competitions, including five consecutive awards, from 1991 to 1995, and 12 similar awards within Tottori.



The People
"I want to make sake that continues to be competitive, and that calls for using highly polished rice," states our former president and now chairman of the board, Michio Nanjo. His enthusiasm and willingness to spare no expense and cut no corners is a big reason why our sake is so popular. He keeps extremely busy not only with keeping tabs on how the sake is coming along, but also working with the Tottori Prefecture Brewer's Union.

Size and Special Characteristics
Presently we brew about 1400 koku each winter. One koku is equivalent to 180 liters, so we are brewing about 250 kiloliters a year. Indeed, we are quite small, but we can accomplish all of our goals from where we are.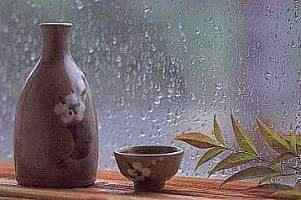 Notable Quotes
Our water source is a well of very soft water (hardness is about 2.0) on our land. We have plenty of it, so we use the same water for everything: brewing, washing tools, even blending. The well is surrounded by lush nature and pine trees; it needs no filtering nor chemical doctoring at all.



The Toji (Master Brewer) and Kurabito
Our current toji is Touda Masahiko. His many years of experience with us continue to allow us to provide consistently flavorful sake to our customers. In 1997, our former toji, Mr. Narikawa Mitsuo, retired from active toji work, but remains on with us as an advisor. He was replaced by Mr. Oka Kentaro, a wonderful Hiroshima toji who died in an unfortunate accident in 2004. Both were highly skilled and creative brewers, helping to make Suwa Izumi what it is today. Mr. Narikawa was the only Hiroshima toji in this region while he was active, as was Mr. Oka. In 1996, Narikawa won an award from the Ministry of Labor as being a "Famous Craftsman of this Generation."

Contact Info
451 Chizu Chizucho, Yazu Gun, Tottori


689-1402, Tel 81-858-75-0618 Fax 81-858-75-3082
-- 81 is Japan country code; within Japan, dial 0858-75-0618 --
Email: Click here to email Suwa Shuzo
Web: www.suwaizumi.jp (J)