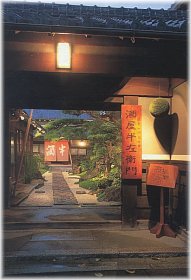 Entrance to Daimon Brewery

Kura History
Daimon Shuzo, founded in 1826, is located at the foot of the scenic Ikoma mountain range in Katano City (near Osaka).

Katano occupies a well-known spot in Japanese history. During the Heian era (over 1000 years ago), the aristocracy of Western Japan flocked to Katano to enjoy the very beautiful scenery that abounded there including lovely cherry blossoms in the spring and the verdant surrounding mountains.

Hunting was the main sport of the gentry and cotton seed oil and silk production were the usual industries of the residents.



Sake production began during the Edo period, but of the many sake-producing firms originally present, only Daimon Shuzo and one other remain.

The Sake
"The sake we make is known by the brand name Rikyubai. Our sake is, in general, full flavored but mellow and balanced. Our higher grades of sake are often very lightly laced with fruit essences such as pear and peach. A nice acidity suffuses the flavor, allowing it to spread out evenly."



Current Director
Yasutaka Daimon

The People
The company president is Sorano Hideo, who is supported by Yasutaka Daimon, the sixth-generation director of Daimon Shuzo. Says Daimon: "In Japan there has been a recent trend away from sake and toward other beverages like wine. We take great pride in our traditional product and I feel that the distinctive taste and manner of drinking sake is inherently tied to the Japanese culture and spirit. I promise to endeavor to continue to produce our high-quality sake with the hope that future generations of all people can enjoy and savor this fine and relaxing style of drinking sake."





Daimon also runs a restaurant and bar at the brewery -- Mukune Tei. The setting is both rustic and quaint, the food quite good, the prices reasonable. It's a great treat to drink sake where it is made.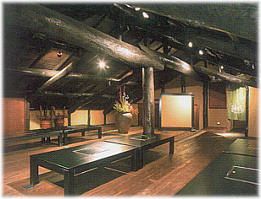 Inside Mukune Tei Restaurant
located within Daimon Brewery
Size and Special Characteristics
Daimon Shuzo produces about 500 "koku." As one koku (the traditional measure of sake in Japan) is 180 liters, about 90 kiloliters is brewed here each year, in the traditional brewing season which runs from late October to early April. This is fairly small by industry standards, but allows Daimon Shuzo to strictly control the quality and style of the sake they produce.

Notable Quotes from Master Daimon
"The most important factor involved with producing good sake is the water supply. We have been blessed with a natural spring providing water which is rich in minerals pure enough to be used in the production of excellent sake. Many people have shown an interest in our water alone, preferring to use it when they do the Japanese tea ceremony, or even for healthy consumption at home in regular tea and coffee. We have also been growing our own Yamada Nishiki rice, the king of sake rice, in cooperation with local rice growers, thus keeping us close to the community in yet another way."



Contact Info
Daimon Brewery (also called Sakahan Brewery)
English and Japanese speakers available
3-12-1 Moriminami, Katano-shi, Osaka


576-0031 Tel 81-72-891-0353 Fax 81-72-891-0354
-- 81 is Japan country code; within Japan, dial 072-891-0353 --
Email: daimon@sakahan.com
Web: www.sakahan.com (J & E)