KNOWLEDGE
Types of Sake
Making Sake
Ingredients
Pub Guide


Sake FAQ
Sake Glossary
Sake Tasting
Serving, Storage
Vital Statistics
Free Newsletter

ARCHIVES
Newsletter Archive
Japan Times Archive

FREE NEWSLETTER
Click here to sign up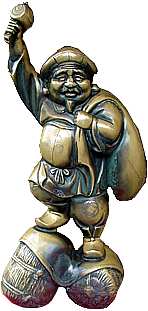 USER TIP: Click the Pubs Guide button (at left) to return to the Main Pubs Index.

PUB SPOTLIGHT

SASAGIN IN TOKYO
Below article appeared originally in similar form in the Japan Times Nihonshu column. LOCATION and CONTACT NUMBERS: To get to Sasagin, take a right out of the South Exit 1 of Yoyogi Uehara station on the Chiyoda line or the Odakyu line. Sasagin is less than a minute's walk on the left. Shibuya-ku Uehara 1-32-15. (03) 5454-3715

INTRODUCTION: Sasagin is an outstanding sake pub in Tokyo. It is easily accessible from all locations within Tokyo. It is wonderful for both Japan residents, and those who come in to Japan even for just a day or two. The sake and the food are both wonderful, at reasonable (for Japan) prices. Although I briefly mentioned it in the last newsletter, it deserves a more detailed intro; if you can only get to one place in your short stay in Tokyo, this is it.

Although it would be best to go with a Japanese-speaking accomplice, if you go alone, you can manage as Narita-san (the owner-operator) speaks enough English to get you by, despite his best efforts of humility-inspired denial of that fact. Reservations are indeed recommended. It is still a small, neighborhood joint, and fills up regularly.

REVIEW: The elegance strikes you even before you open the door. Well manicured black pebbles surround the stepping stones, simple straw-yellow walls exude the quiet confidence of traditional Japanese architecture. A sakabayashi, the tightly bound balls of cedar traditionally denoting where nihonshu can be found, hangs at eye level just to the right of the sliding wooden doors. Welcome to Sasagin.

The low lighting seeping through the bamboo-grille ceiling complements the interior. Half a dozen small tables line the wall, and beyond those lies a small raised zashiki seating eight max. But the low, deep counter to your left is where you want to be sitting.



If you choose to start with a beer, go with the bottled Ebisu for now. But why wait? It's sake time.

You have two choices: peer over the counter into the well stocked fridge for a familiar label that beckons you, or move more deliberately through the well-organized menu. There's more than 60 selections fighting for your attention, and none will steer you wrong.

RECOMMENDED SAKE: Buyu from Ibaraki, Suigei from Kochi, Tengumai and Kikuhime from Ishikawa are some of the wilder-flavored sake available, with Kubota from Niigata, Gikyo from Aichi and Michizakari from Gifu keeping the menu honest with dry and clean profiles. Sterling Kaiun and Isojiman from Shizuoka and Kuro-ushi from Wakayama are there in all their glory, as is Biwa no Choju from Shiga and Fukucho from Hiroshima.

The stock changes regularly, and there is a special weekly listing of recommendations as well. Even nigori-zake (cloudy sake) fans will not be left out in the cold here. It'll be difficult to settle on one.

But whatever you do, make your interest in nihonshu clear when you order. This will alert Narita-san behind the counter, and you will soon come to know Sasagin's real charm. He'll put the bottle in front of you on the raised part of the counter, quietly announcing the name, in case you've forgotten. Then he turns away, as if he had something better to do. As he performs some quick menial chore, you have a moment to examine the label should you choose. The sense of anticipation is heightened.



Soon he returns and fills to overflow a tasting glass set tilted within a lacquered masu. Accept it graciously. Talk with him, ask him questions. Although soft-spoken and serene, Narita-san will respond to your interest and enthusiasm with multiples of the same energy coddled in the warmth of his personal charm. The more you ask, the more he'll talk. He's a wealth of interesting information. Another strength is his ability to make fine recommendations. When you finish one glass, ask him what you should try next.

He'll look at you like he's absorbing your aura for a couple of seconds, furrow his brow, then smile softly and nod. He'll then pull something out of the cooler that somehow is just what you were looking for. If there are two or three of you, let him go wild. Suggestions and bottles will come flying, lined up on the counter, interspersed with quiet but earnest explanations. He will definitely give your taste buds a ride.

There's a lot in the cooler that's not on the menu, brought home from road trips to kura around the country. A lot of it is quite unique. Often when something runs out, there will be no more until next year.

The food here asks no quarter of the sake. A trip to Sasagin can be justified on that alone. Creative, tasty and beautifully presented, it's mostly Japanese fare of the upper-echelon type. The sashimi is most highly recommended. Don't miss the crispy and flavorful karei no kara -age. Uni-dofu is gentle but surprisingly tasty. Jigamo tsukune, "duck yakitori" if you will, and buta no kakuni, a tiny but elegant pork stew, are some of the more gamy selections. There's a good amount of tempura as well. If you like to close the meal with rice, be sure to request the white wasabi pickles along with it. (Caution: taste it a little at a time, or it'll sandblast your nose off of your face. In a good way.)

PARTING SHOTS: One more suggestion. Provided you still fall within the definition of moderate consumption (good luck), finish the night's drinking with a draft Edel-Pils beer. The ultra-hoppy nose and bitter, clean flavor provide a wonderful seal on the culinary experience of the evening.

All the food and drink here is very reasonably priced. Most of the sake is in the 500-600 yen range, and quite a steal at that. The quality, presentation and personal attention make it even a better

yang for your yen.

Sasagin rides a rhythm made of personable service, ambiance and satisfying food and drink. That refined and classy touch that greeted you at the door permeates every aspect of the shop. Although fairly new , it's not a secret. If you want to sit at the counter (and you do), it's best to come on a weeknight and/or make reservations.